Weather forecast South Tyrol – for your holiday vacation
What is the weather like in South Tyrol? In winter it is perfect for skiing. in summer for hiking and lazing around! Even if it wasn't good enough for a day outside, discover our SPA and multiple excursion destinations.

Today:
---
Tomorrow: Changeable conditions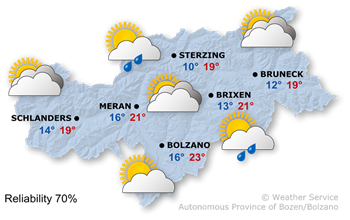 In the morning quite widespread low stratus clouds. Also during the day the clouds will predominate and the sun will only occasionally shine. Especially in the second half of the day, rain showers and a few thunderstorms will develop. The temperatures reach maximum values ​​between 15° and 23°.
---
Variable conditions, cooler