Weather forecast South Tyrol – for your holiday vacation
What is the weather like in South Tyrol? In winter it is perfect for skiing. in summer for hiking and lazing around! Even if it wasn't good enough for a day outside, discover our SPA and multiple excursion destinations.

Today: Unsettled in the North, sunny in the South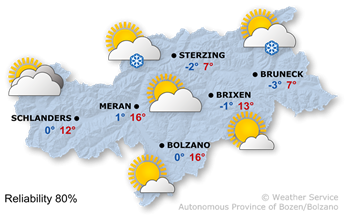 Cloudy sky with light snowfall along the main alpine crest. Sunny weather with harmless clouds and North foehn in the South. Top temperatures between 6° and 17°.
---
Tomorrow: Mostly sunny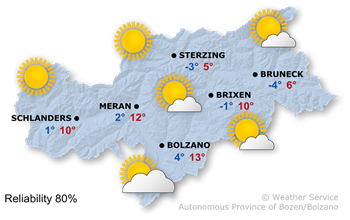 Mostly sunny, during the day low clouds from South. High temperatures between 5° and 14°.
---
Quite sunny weahter