Weather forecast South Tyrol – for your holiday vacation
What is the weather like in South Tyrol? In winter it is perfect for skiing. in summer for hiking and lazing around! Even if it wasn't good enough for a day outside, discover our SPA and multiple excursion destinations.

Today: Mostly sunny, colder
Sunny weather. Towards the evening more clouds moving in from the east. Föhn winds in the northern parts of the region. High temperatures between 0° and 10°.
---
Tomorrow: Very sunny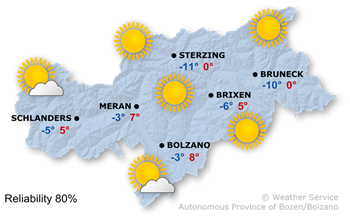 Sunny weather with mostly clear sky. Low temperatures between -14° and -2°, high values from -2° to +8°.
---
Sunny winter weather
Also on Wednesday sunny conditions, clear sky. On Thursday the sunny weather continues. On Friday still high pressure conditions, at times a few cirrus clouds may pass through. Saturday partly sunny with some clouds from North.