Weather forecast South Tyrol – for your holiday vacation
What is the weather like in South Tyrol? In winter it is perfect for skiing. in summer for hiking and lazing around! Even if it wasn't good enough for a day outside, discover our SPA and multiple excursion destinations.

Today: Increasing cloudiness
Sunny weather in the morning. In the afternoon clouds will increase with the possibility of isolated showers in the evening. The precipitation will be more widespread during the following night. Snowfalls over 600/1200 m above sea level. Afternoon temperatures between 12° and 20°.
---
Tomorrow: Rain and snowfall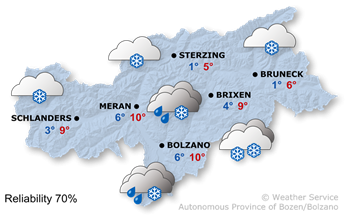 Cloudy sky with rain and snowfall. Snowline between 600 and1000 m. Temperatures between 5° and 10°.
---
Sunny weather