Weather forecast South Tyrol – for your holiday vacation
What is the weather like in South Tyrol? In winter it is perfect for skiing. in summer for hiking and lazing around! Even if it wasn't good enough for a day outside, discover our SPA and multiple excursion destinations.

Today: Very sunny
Very sunny all over the day. Towards the evening some cumuliform clouds will develop especially in the southern regions and local rain showers are possible. Windy in the northern valleys. Maximum values between 17° and 28°.
---
Tomorrow: Sunny, partly windy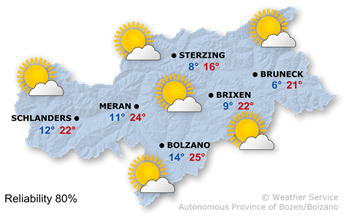 Sunny weather with local patches of fog disappearing in the morning. Northerly winds. Maximum temperatures between 16° and 25°.
---
Sunny, but lower temperatures